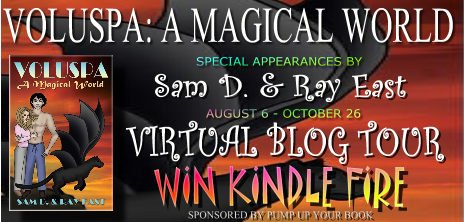 At first glance, Amy Benson comes across as any ordinary fifteen year old with more than her share of the usual teenage angsts. Amy has had a hard childhood, feeling unwanted and unloved with an alcoholic stepfather as her only family. She has secrets that set her aside from her classmates and as she struggles to appear normal and fit in, she becomes an easy target for school bullies. No family life, no friends and a constant struggle for basic survival leaves a mark on Amy's character. Although extraordinarily beautiful, she is blind to her own charms and has a poor body image. All in all life seems bleak for poor Amy. Everything changes when her step father passes away and she lands up with her only relative – her maternal grandmother. Her life changes irrevocably, when she finds an old book in her mother's closet and ends up magically transported to another realm.
This magical realm is Voluspa. Here she meets Drake and against all societal norms, the two fall madly in love. In many ways Drake is her other half, they complete each other. As a result of her relationship with Drake, Amy blossoms into a more confident, fun loving individual. For the first time in her life she is at peace with herself. As time passes, Amy realizes her own magical powers and gradually evolves into a strong individual – a force to reckon with. Her character is not flat; it is continuously changing and growing. Even when she learns the secret about her own parentage she shows remarkable fortitude and strength of character.
Her love for Drake is so intense and true that it transcends her character beyond that of a mere fifteen year old. When Drake is in danger she shows admirable courage and loyalty and risks all to save Drake. In spite of her magical powers and the adventures that she embarks upon, Amy is the girl next door. She is very easy to relate to from her complicated love life to difficult assignments at school; but at the same time she is a very spirited young woman. She is someone who is brave and loyal, vulnerable yet strong, someone who inspires epic love..
. She is a remarkable girl, with a core of steel. She faces whatever life throws at her with courage and spirit. She is no paragon of virtue; like every human being she has her foibles. The admirable part is, she does not let her own shortcomings, difficult circumstances or even evil adversaries defeat her without putting up a fight.
About the book:
Centuries ago, war between aliens and humans almost destroyed the world. To prevent such a war from happening again, a mighty ruler then formed a secret society of nine powerful humans and aliens called the Bramhas. These Bramhas each wrote a book imparting ancient wisdom and knowledge. The possession of these books could bring about untold power and success. The nine books were hidden but the desire to possess those books, still cause men to fight wars and turn against each other. One such war was fought in the realm of Voluspa decades back; the consequences of that war still resonate in this magical land. Two young lovers get caught in this tussle and it changes their destinies forever.
Amy's humdrum life takes a complete 180' turn with the death of her stepfather. She goes to live with her grandmother – her only living relative, though she hasn't seen her in the last five years. Among her mother's childhood memorabilia, she finds a book 'Legends of Voluspa' that captures her imagination. She becomes so engrossed in the book that she starts dreaming about the places in the book till one night she finds herself inexplicably transported to the new world – Voluspa, as described in the book. Here she meets Drake, who unknown to her is a shape shifter. Chemistry cackles between the two from the very first and as they discover that they share a lot in common, a tenuous bond forms between the two. 'I'll keep you safe' vows Drake and he remains true to his word as he befriends her and saves her from various troubles that befall her over the next couple of months.
In Voluspa, Amy discovers a new way of life. It's a magical world inhabited by primarily four clans – Empaths, Morphus, Mendens and the Pulchrous. The Empaths have the power of mind, the Morphus are the shape shifters, Mendens are the healers while the Pulchrous possess physical perfection and strength. With the help of an old family friend, Amy takes her rightful place in the Empath clan. This marks a new chapter in Amy's life. She realizes her own powers and subsequently starts going to a school to enhance the same. With Drake by her side, she makes some wonderful friends. However, her life is not all smooth sailing; trouble comes when she learns the truth about her biological parents. She realizes that her very existence is against Voluspan law which forbids the union between individuals belonging to two different clans. History threatens to repeat itself as she realizes that her predicament was not that different from what her mother had faced, decades back. She is totally in love with Drake, who belongs to the Morphus clan.
The enchanting world of Voluspa is far from Utopic; it has barely recovered from a devastating war fought twenty years back when the peace of the land is once again threatened by Gangrels, the evil army of aliens. The two young lovers soon realize that besides contending with forbidden love, they have to deal with other impediments. Ancient enmities, a past war, a much coveted book, all conspire against the two lovers. Gangrels reappear in Voluspa and Drake falls in the clutches of one such evil being who would stop at nothing to realize his fiendish ambitions. Amy and her friends cross realms, face enemies, deal with challenges, solve riddles and brave possible destruction, as they set off on an adventure to rescue Drake. The 'Force of Sutra' clashes with the 'Elemental Force' of the Gangrels as Amy and her friends are faced with an indomitable enemy. They use strategic warfare, pit adversaries among themselves and use every last drop of strength, skill and courage as they take on warriors far more ruthless and skilled than themselves.
As Amy embarks upon a quest to save Drake, her love for him is tested at every turn but she never wavers from her objective. Braving imminent death she manages to reach Drake – only to find a changed person. Gone is the man she is in love with, instead a dangerous stranger stood in his place. This Drake was teetering at the edge between becoming completely evil and retaining his own soul. He almost harms Amy but stops himself at the very last minute. His love for Amy proves to be stronger than the evil entity threatening to overpower him. However when chips are down, Drake comes through. He sets aside his personal well-being in order to save Amy, one last time. Drake is perhaps lost forever but hope dies last – Amy is determined to get back Drake, no matter what the cost.
About the author:
Ray East and Sam D have moved to Voluspa and live in the Forest of Skotos with their 5 year old daughter and a pet Typhon. They visit Earth with the help of an Empath from time to time. Ray East did her masters in Phsychology from Univeristy of Sussex and has worked as a counselor for adolescents. Sam D used to teach at a SPJC before he moved to Voluspa.
Their latest book is Voluspa: A Magical World.
~ ~ ~WIN $50 GIFT CERTIFICATE ~ ~ ~
One lucky person who comments the most on Sam D. and Ray East's blog stops will receive a $50 gift certificate. The blog host who receives the most comments through the tour will also receive a $50 gift certificate! Woot!






Enter to win a Kindle Fire
a Rafflecopter giveaway