The Month of October (my favorite month!) has an abundance of book giveaways. I am hosting one on my blog (see sidebar for info) but I thought I would share all of these other book giveaway hops (meaning there's a whole slew of bloggers giving away books for each of these events) with all of you that get as excited about book giveaways as I do.
October 1st to 31st
http://www.totalbookaholic.com/2011/09/haunted-halloween-2011-updated-posts.html
October 7th to 10th
http://www.fangswandsandfairydust.com/
October 8th to 14th
October 13th to 15th
http://tristipinkston.blogspot.com/
October 15th to 19th
http://leeswammes.wordpress.com/
October 15th to 31st
http://booktwirps.com/new-release-giveaway-hop/october-new-release-giveaway/
October 22nd to 29th
http://smallblogsbiggiveaways.blogspot.com/p/host-next-edition_05.html
October 24th to 31st
http://iamareadernotawriter.blogspot.com/p/giveaway-hop_17.html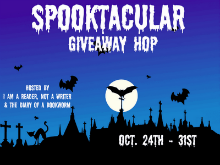 October 26th to 31st
October 28th to 31st
If you know of another big book giveaway going on in October let me know and I'll add it here.